Probiotics
Probiotics are bacteria that live in the human intestinal tract that provide essential biological benefit. Probiotics are essential nutrients; they are required for health and the prevention of illness. Probiotics represent 80% of the immune system. These healthy bacteria prevent overgrowth by unhealthy disease causing bacteria, viruses, and yeast and they also produce vitamins and nutrients such as short chain fatty acids. (1)
When present in sufficient amounts, probiotics in your intestine actually produce biologically significant amounts of vitamins such as thiamine (B1), folic acid, nicotinic acid (B3), pyridoxine (B6), and vitamin B12.(2)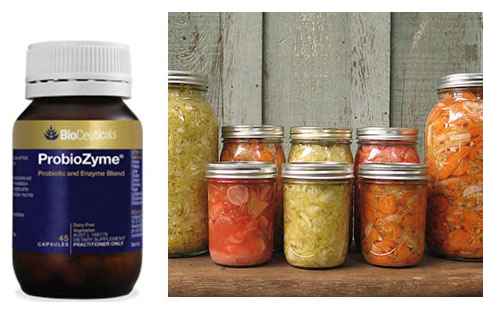 Vitamin D
There is absolutely no debating the fact that most people living in industrial society have deficient levels of vitamin D. Very few people get the 20 minutes per day of bare skin sun exposure (no clothing or sunscreen lotion) required for sufficiency.
Being deficient in vitamin D is a significant causal factor in the following: cancer, heart disease, multiple sclerosis, inflammation, depression, colds and flu, decreased immune function, asthma, autism, asthma, autoimmune diabetes, allergies, bone loss, chronic pain, loss of athletic performance, and premature aging due to decreased ability to repair DNA telomeres.
Fish Oil
There are thousands of scientific references showing the necessity and benefit of consumption of sufficient amounts of Omega-3 essential fatty acids (EFAs) found in fish and in pharmaceutical-grade fish oil supplements. Research indicates that sufficient intake of Omega-3 fatty acids is important for heart health, blood sugar regulation, brain health, emotional health, digestive health, bone health, digestive health, immune health, and cancer prevention. (1)
This is because omega-3 fatty acids are essential nutrients that all humans require in sufficient amounts for health and the prevention of illness.